Pretty early on Friday we got on a bus heading from London to Winchester to stay with a friend.  We got off the bus in a really nice looking downtown area with some beautiful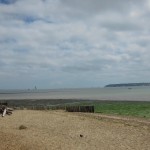 gardens next door.  Our friend was there to pick us up and we headed off to his place in the nearby town of Bishopstoke.  After dropping off our bags we headed out towards the New Forest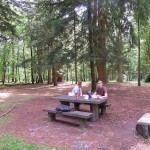 national park.  The park was really cool.  We got to see wild ponies all over the place, a beatific little town, rolling hills of heather, fields, forests, deer of a type I've never seen before, a beach looking into a channel with tons of sailboats out and alot and more.  We stopped at a little shop to pick up some food and then headed to a great picnic spot in the forest that felt a lot like the forests of the Pacific Northwest back home.  It was a great way to spend the afternoon and decompress after our crazy week in London.
That afternoon we headed back into Winchester via train.  Our friend gave us a great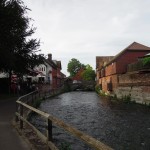 walking tour through town.  We started on high street, made our way past the cathedral, past the college (prep school in our parlance), the bishop's house, the old castle, and up the hill for a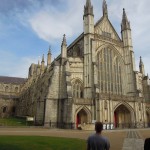 view of the city.  We then headed back down the hill and into The Black Boy, an awesome pub at the base of the hill.  This place had a really cool feel to it, all sorts of strange and interesting decorations littered the walls and ceilings.  I went up to the bar to get pints for Sarah and I.  The bartenders giggled a bit about my accent, but we got two pints poured and paid for.  We sat and sipped our beers while we waited for the kitchen to open.  This place only serves food for a couple hours each night.  As we sat I kept looking around and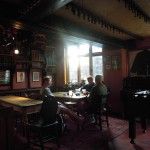 finding new things on the walls and ceiling.  A little while later we went to the bar and ordered food.  Fish and chips for me (my first in England!) and our host, a brie and cranberry sandwich for Sarah.  They brought the food out to us a few minutes later and it was great.  An actual fish filet breaded and fried, not glorified fish sticks.
After dinner we moved on to Winchester's contender for the oldest pub in England (I'm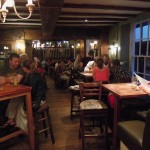 sure plenty of pubs claim the title).  This place had low ceilings, rough hewn beams and the stone exterior of a really old building, that much was certain.  It had a great lively atmosphere and we got a cool table up in a back room overlooking the alleyway we entered from.  I also had a brief conversation with a couple Americans who turned out to be from St Louis and Mississippi, good stuff!
Our next stop was the old jail house.  This bar/café had a very relaxed feel to it, it was
like having a few drinks in someone's living room.  The place was full of locals and the cast of the local production of Avenue Q, the beer was cheap, and the conversation was good.  We stayed for a while before deciding to head home.
Before heading home though we stopped for some kebab.  If you're unfamiliar with kebab and shwarma you should acquaint yourself with them next time you want a cheap lunch or some great drunk food.
The next morning we managed to get up at some facsimile of a reasonable hour, got ready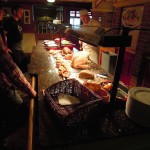 and piled into the car to go see Bath and Bristol.  But first brunch.  We went to a carvery.  This was a place where you picked which meat(s) you wanted and they carved them off for you, then you got to load up all you wanted on yorkshire pudding, veggies and sauces.  It was fun, tasty and filling.  After brunch we had a very nice almost 2 hour drive through the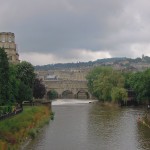 English countryside before arriving at Bath.  We met up with a couple of our host's friends who live there and they led us on a bit of a walking tour through the highlights.  The town of Bath has a really cool look and feel to it.  Apparently a single architect designed a lot of it, which is part of the reason it feels so contiguous.  We also discovered that they filmed a lot of the (kinda) recent Les Miserables movie in Bath and Winchester.  What stood out to us was the spot where Javert jumps into the river that anyone who's been to Paris knew was not the Seine.  It's in Bath.
So after exploring Bath for a little while we hopped back in the car and drove the short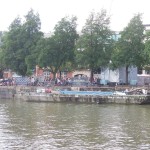 distance to Bristol.  Our mission was to find Banksy art.  We had downloaded an app that gave us a little map of places with Banksy paintings.  We parked close to downtown and headed for the first one, which was on the side of a boat that was also a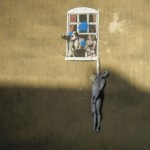 venue and bar.  We got there and found that the boat was completely destructed.  Our friend was doubly sad because he had been to many shows there and loved the venue.  Oh well, on to the next one!  As we kept walking the crowds grew thick and street vendors started popping up.  Downtown Bristol was packed!  It turned out to be some sort of festival.  We kept pushing through, entered to win a free trip to New Brunswick, broke free of the crowds and wandered up the hill to our next destination.  No luck, it was (we think) inside a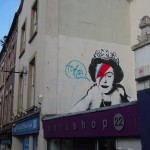 closed building that was part of the university.  Ok, on to the next one.  Again, inside a closed building (an art museum).  One last try… We walked towards the hospital, passed the spot, walked back and found that it had been painted over with something else.  We could still see the outline of it in places, but that was it.  The new art was cool too, so that was nice anyhow.
Our Banksy success rate was 1 out of 4, not a resounding success, but it was still fun.  Bristol seems like a very cool city that we would not mind going back to.  We headed back to Winchester and relaxed for a couple hours before getting some Indian Food for dinner.  Delicious!
The next day our friend had to work, so we headed out on our own to see the touristy side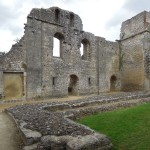 of Winchester.  First we went to Wolvesly Castle.  This is mostly a ruin now, but it was a castle built by a Bishop back when bishops had political power and were agents of the king as well as religious leaders.  It was an interesting stop and taught us a fair bit about the history of the area.  Next we wandered through the market for a while hoping to find a ring and/or a watch.  No luck on that front, but we did get some delicious ice cream.
We went and sat in the park/graveyard outside the cathedral as we finished our ice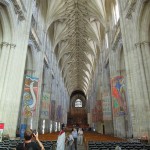 cream, then we went inside the cathedral for their choral evensong service.  This cathedral has the longest nave in Europe and is quite beautiful.  The choir was a boys' choir with boys aged 7 to 13 who go to school there at the church.  It was pretty stunning.  Sarah and I both thought a good solution to priests abusing choir boys was to get rid of the choir boys, we now understand the hesitance to do so.  This was the last performance of the choir for the school year and the music was chosen by the leaving choristers.  We also got an organ show after the service, which was amazing.
After the service we went and popped in to the city museum for a quick visit, the museum was kinda interesting and gave us a good overview of the city's history, but we only needed a few minutes there.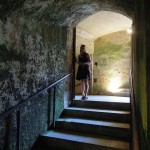 Next we wandered up the street to the Great Hall, which contains Henry VIII's round table.  We were turned away because the BBC was filming something in there, but we did get to talk through the castle's old escape tunnels, which was fun.
We had a nice dinner of pizza overlooking the river/mill rush and then made our way home.
The next day was our last in Winchester, our host took us to a local place for English Breakfast, which was tasty.  We then said our goodbyes and caught the train into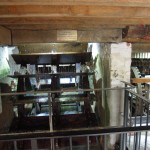 Winchester.  We had a couple hours before our train, so we bought some apples and tea biscuits to snack on during our journey.  We then went to the tourist information center where they were kind enough to print off our bus tickets for us.  Sarah also found a penny squishing machine there, which was exciting.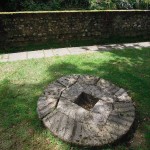 On their advice we went and toured the city mill.  The mill was cool, it's a functioning water mill that still produces flour (which you can buy in the gift shop).  We got to see all the gears in action, though they weren't grinding any grain during our visit.  They also have river otters who live in the mill.  Perhaps the most important par though was the hedgehog name Oscar.  Oscar lost his leg, presumably in a war against rats outside Redwall, and was thus unable to survive in the wild anymore, so Prickly Pals Hedgehog Rescue Society found a nice home for him on the mill's island.  Sadly Oscar didn't come out to greet us.
After the mill we sat in the lovely abbey gardens for a little while before our bus pulled up.  Then it was off to Amsterdam via London!