The next morning we had decided we were going to bike out to Greenwich along the Thames and then take a boat back.  So, we paid 2 pounds each to get bikes out of the cycle hire station near our flat.  From there we headed down the path along the river towards Greenwich.  However it soon turned into a pedestrian only path and we were diverted onto the streets.  This was ok at first, but we quickly found ourselves on busy streets with lots of traffic.  This was not a great situation and we decided to ditch the bikes until we could bike in situations where we felt safe, so we docked them at the nearest station, got some lunch at a nearby market and continued on foot for a while.  We crossed the river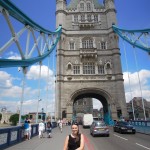 on the Tower Bridge and found ourselves walking along a much calmer path, so we got some bikes out of a station again.  This was great!  We cycled down quiet little streets and eventually found ourselves on a "cycle super highway".  We really enjoyed riding along and actually ended up going a bit past where we had intended to turn south.  We eventually got ourselves to the docking station closest to the crossing to Greenwich and left our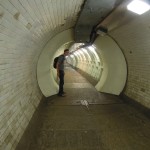 bikes there.  We then took an elevator down and walked through a tunnel under the river.  It was blessedly chilly down there after all that biking.  On the other side we came out of the ground to be greeted by the Cutty Sark on full display.  It was a really cool looking boat.  We wandered past it into Greenwich park, went into the visitor center to learn a bit about where we were, and continued into the old naval university, which is now Greenwich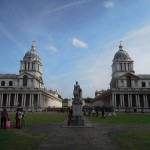 university.  It happened to be graduation day and there were recently hooded grads taking pictures with their families.  We had a pleasant walk through campus, walked into the national maritime museum where we learned about boats and lighthouses, found out the observatory closes at 4:30, decided not to walk up the hill to it since it was closed, ate some dinner and then went and bought tickets for the river bus.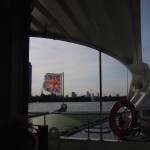 The river bus was cool!  It zoomed up the river and we had a great time taking in all the sights as we sped along.  I also felt quite accomplished seeing the distance we had covered on bike and foot…
Back on the south bank we bought some cider and dessert and
found a bench on the river across from parliament to watch the sunset as we enjoyed them.  As the sunset faded to dusk we got some bikes and headed towards a round tower in the distance.  We parked our bikes and sat on the river bank for a bit in a really posh area.  Then for my final bike of the night I got the Tour De France bike!  We cycled back along the river to the station near our flat.  It was a perfect last night in London.