We finally arrived in Bangkok with the intention to explore it last week.
Over the next few days we saw the most beautiful temples we've seen, tasted amazing food, saw a very interesting cross section of Thai society and wandered into a really cool festival put on by the Tourism Authority of Thailand celebrating the 12 regions of the country.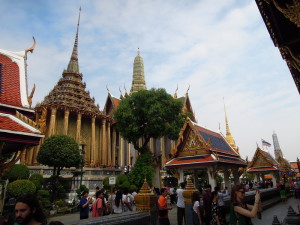 The Emerald Buddha Temple Complex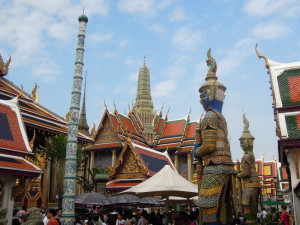 (Wat Phra Kaew) is a place of incredible beauty.  It is the temple of the monarchy but is open to the public.  Free for locals, $15 for foreigners.  It houses precious religious artifacts of the buddhist faith and has beenadded to over the reigns of the current dynasty.  The centerpiece is the emerald buddha, a statue carved from Jasper that was brought from Laos long ago.  It has 3 different outfits, one to be worn in each season.  The rainy season, the hot season and the dry season.  They may call one of those the cold season, but I'm not sure why they would do that.  It was wonderful to explore.
Food, oh man, the food.  Food from street stalls, pavement kitchens, holes in walls, small cafes, Michelin Star caliber dining…  Bangkok is full of sumptuous flavors!  I can't decide where the best curry I've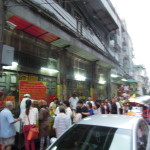 had came from.  A street corner in chinatown, a hole in the wall on Soi 38 or this odd cafeteria type place near the crown halls.  All 3 were fantastic and we've had many more that should probably be on the list.  However curry isn't all that's good here.  Som Tum is a green papaya salad with chiles, lime juice, peanuts, fish sauce, tomatoes and who knows what else.  It's awesome.  Tom Yum is a soup bursting with flavor.  Stir fried meat (pork or chicken usually) with basil (and of course chiles) is a perennial favorite and there's plenty of Thai Iced Tea (aka milk tea on ice) to wash it all down.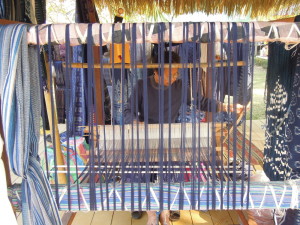 The festival we wandered into is still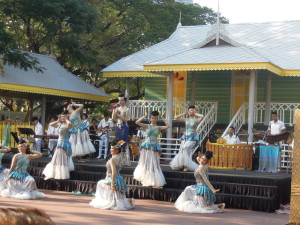 going on and hopefully we'll get to experience more of it tomorrow.  The Tourism Authority of Thailand (TAT) organized this event where each region is represented in Bangkok's central park (Lumphini Park).  You can wander through every region where there are performances representing what that region has to offer tourists as well as its traditional art forms.  There are arts and crafts and of course delicious food for sale as well.  It was a really cool overview of the country we've spent the last month in.