After watching the sunrise over the mist layer caused by humidity rising from the balmy Thai interior to the mountains of Chiang Mai province we headed up to the peak.  Doi Inthanon reaches 2565.3341 meters, or 8416.45 feet.  It was a grueling 50 meter walk on a paved/staired path full of Thai tourists who then patiently waited in line to get their picture taken with this sign,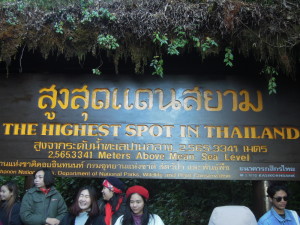 which is (for unknown reasons) not at the peak.  We continued along the nice paved path to the actual peak, finished the path at the little shop where we got hot drinks before heading off through the mountains for a beautiful drive to Mae Hong Son, where we are currently relaxing.
We aren't sure exactly what our timeline is, but we are currently on our way around our version of the Mae Hong Son loop.  In addition to Doi Inthanon National Park and Mae Hong Son we'll be stopping in Pai before returning to Chiang Mai.  Then we'll be heading down to Bangkok to explore the area with our good friend David!