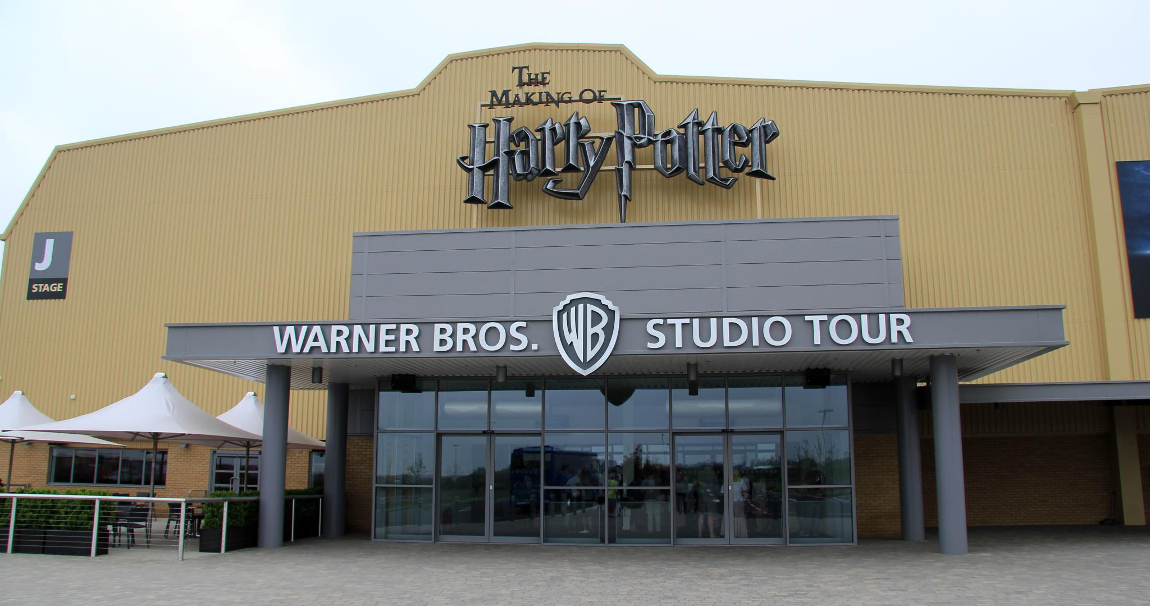 For this Traveling Tuesday I am going to talk about one of the most magical experiences of our trip, pun intended. Well ok I am not going to talk about the whole experience because it deserves multiple entries, for now I will just talk about our long and arduous path to the magical world of the Harry Potter Studios. * I would like to note that the majesty of this place is so great that even while writing this my face forms a warm smile and tears are coming to my eyes*
London was our first international stop of the trip, while there are many great things to do and see in London, but the fangirl inside of me had two main priorities. One, to find a police box and try to get inside it, and two, to visit the Harry Potter studios. We went online to look for information about going to the studios and learned that the tickets were sold out for the next two and a half months. I was devastated, but my heroic husband had a solution. In three months we would be flying to China, and we had already bought the tickets from Budapest to Beijing with a connection in London. We extended our layover by one day and bought tickets to Harry Potter Studios for four hours after our flight was scheduled to land.
Fast Forward, after three wonderful months of galavanting about Europe and finding our travelers legs, we were back in London, well almost. I was in a good mood, our flight had been on time, we had our bags and all was going according to plan. Until we realized we were nowhere near london. Our plane had deposited us at the London Stansted airport.  I still honestly don't know where it is, but it is nowhere near London! We had two options: an hour and a half (maybe more) on an expensive bus, or 45 minutes on an exorbitantly priced train. We decided to go with the train, we really didn't want to miss the studios. This had me freaked out a little, we were on such a tight budget it was hard to part with that much money. After the train we had to take the underground to our AirBnB. The whole thing took us about 2 hours, the trip to Harry Potter Studios was only an hour and a half. So we had a little time for lunch then we jumped on another train to the studios!
The train stopped, not the normal kind of stop where the doors open and people flow in and out the doors in an orderly chaos until the doors close again, the train stopped opened its doors and announced there was a problem on the tracks and we had to get off. My stomach clenched, this was bad, but the London transit system is world class, I had faith they would take care of us. A brisk women directed us to a queue where we could wait for a replacement bus. I reread our tickets "Entry to Harry Potter Studios at 2:00" it didn't say what would happen if you were late. By the time the bus arrived 30 minutes had passed, the bus then proceeded to go down what seemed like infinite small streets in an effort to get stuck in every traffic jam. We were well past the time on our ticket when the cursed bus finally dropped us off at a platform where we could wait for yet another train. I literally wept on the cold london platform while waited for the train. We got off and transferred to the Harry Potter bus, the voices of Ron, Harry and Hermione greeted us and told us we were welcome. The voice of Draco reminded us that all tickets must be purchased for a time slot in advance.
The woman at the counter looked at our tickets and at our faces, with a smile she told us that we could enter in with the next time slot and not to worry about being so late. I felt like the woman was actually glistening like an angel as she uttered those words. We found our way to the queue, which passed by Harry's cupboard from under the stairs. The magic for us had already started, but it was nothing compared to the wonders that we would encounter next.
Credit for this cover photo goes to "Harry Potter Leavesden entrance" by Karen Roe