For anyone wondering about the title go to the east coast.
We initially spent one day in Olympia with my parents.  It was a very nice visit,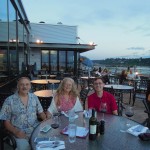 but we soon headed north to Camano Island for the annual reunion of friends from Boise High School class of 2004.  We spent 5 nights in a wonderful rental home where we relaxed, went walking through the woods, to the beach, played games, cooked wonderful meals, soaked in the hot tub, swung on the rope swing, and generally enjoyed life to the fullest.
During our explorations of the island we discovered "jam berries" as well as the usual plethora of salmon berries, huckleberries, and raspberries.  All of which made for delicious eating.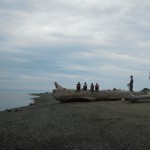 We were also introduced to some great new games, the stand out was "Caverna".  This game is a ton of fun and is extremely well designed.  One of the most interesting parts is that while you are competing with the other players it doesn't feel like a direct competition most of the time.  Check it out, you'll enjoy being a family of dwarven farmers!
One the last full day of island fun Sarah and I also celebrated our first anniversary, yay!
After our week on the island we headed south and after a stop at REI's flagship store in Seattle for some great deals on a few essential items we landed back in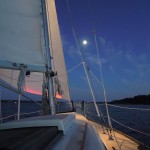 Olympia for more family time with my parents, brother and brother's GF.  In the last two days we've gone hiking, sailing in the sunset, hurriedly finished up a few things before we leave the country, had wonderful meals cooked with and by my father, cuddled and played with our cat, printed boarding passes, packed our bags, eaten one last giant American dinner, and are about to get one last night's sleep here in the USA.
See more pictures of our Washington adventures at this link.