Sarah had spring break coming up and we decided to plan a trip.  Destination Louisiana.  Our good friends Jon and Teresa joined us for the adventure!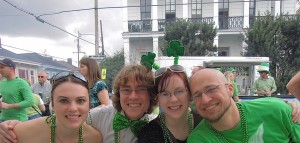 On the way down someone drank too much water and we had a few extra stops, which turned out to be a great thing!  One of our extra stops was the site of President Theodore Roosevelt's bear hunt.  A local hunter led him and his party on a bear hunt, caught a bear and tied it to a tree.  He then called TR over to shoot it.  TR refused to do so, saying that would not be sportsmanlike. The story went national and toy bears called "Teddy's Bears" became popular.  Of course now most kids have a teddy bear or two.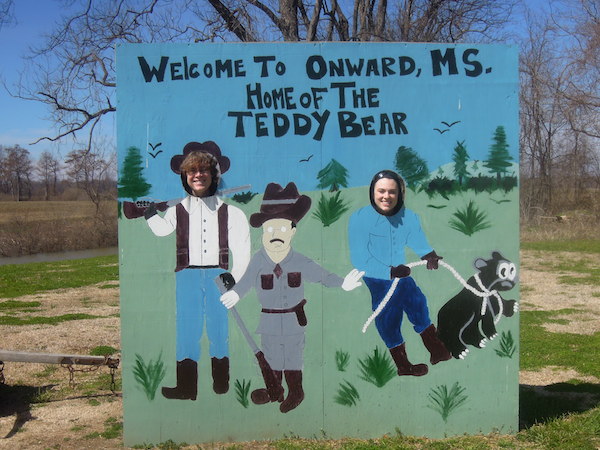 Next was Vicksburg, MS.  We had a tasty (and filling) lunch at Rusty's Riverfront Grill, walked along the riverfront and visited the site of the civil war battle that took place there.
The civil war site was impressive.  It had many memorials to soldiers from both sides lost in the battle, an ironclad ship that had been sunk by confederate cannons, and a visitor's center.
From Vicksburg it was on to Breaux Bridge, LA.  Our home for the next two nights and our glimpse of Cajun Country.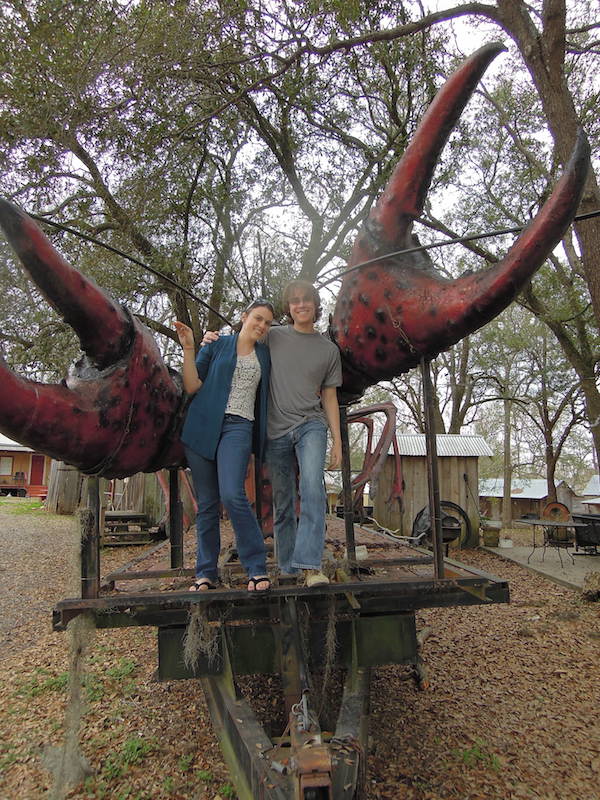 We stayed at the Bayou Cabins B&B, the cabin was nice, the food was good, the people were friendly and the price was great.
We do recommend it, especially if you're on a budget, though next time we intend to try the Cajun Country Cottages at the recommendation of one of our favorite B&Bs of all time.
Most of our Sunday was spent relaxing and enjoying the slow pace of Breaux Bridge, but we did venture out to the swamp with Cajun Country Swamp Tours.  We highly recommend you do this!  It was really cool to see all the wildlife with a knowledgeable guide who cares about preserving the swamp, all for $20 each.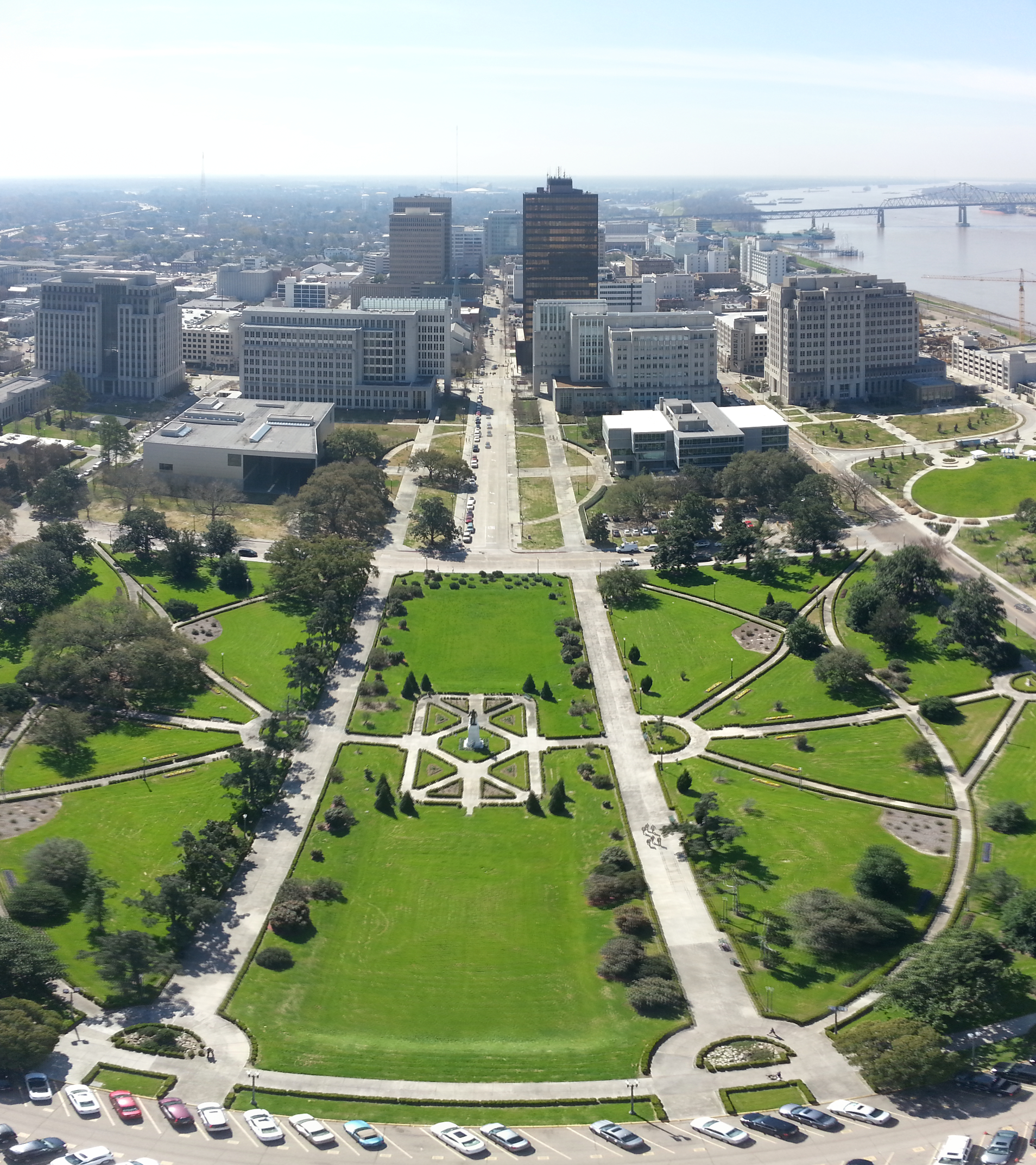 On Monday we headed towards New Orleans, but first we stopped off in Baton Rouge.
The capitol and largest city in Louisiana.  We explored the downtown, discovered that the old capitol is closed for renovations and the old governor's mansion is an event venue not open to the public, and drove through LSU's campus.  The highlight was definitely the capitol building.  We took the elevator all the way up and were rewarded with fantastic views of the city.  It also happened to be the first day of the new session for the state legislature.  We hung out in the house chambers for a while hoping to see the governor speak, but as with all things government it was behind schedule and we had to go before he showed.
We drove on to New Orleans, where we would spend the rest of our break!
Something that struck us during our time there was that New Orleans is really an island.  You have to cross a bridge to get to it no matter what direction you come from.  Most of the land that makes it look connected on maps is really a swamp.  We were also surprised by how small it felt.  This is not a large sprawling city.
We rented an apartment in the Uptown neighborhood through AirBnB.  It was great!  On our first night we simply walked around the corner on Freret street and picked the High Hat Cafe from a plethora of choices.
Tuesday, our first full day in town, was rainy, so Sarah was forced to spend the whole day in The National World War II Museum.  It was extensive, well thought out, and interesting.  For lunch we stopped by Cochon Butcher, a small deli style restaurant with limited seating, fast turnover, and some of the best sandwiches and mac+cheese we've ever had.  After lunch Sarah was extremely excited that we got to go back to the museum and learn more about the war.
That night we met a friend for dinner at The Rum House on Magazine St.  It was a lot of fun going to a local hotspot for dinner.  After dinner we hopped on the bus and headed to the French Quarter where we wandered down Bourbon to Preservation Hall for a great little jazz show.  This cramped little venue was packed to the brim and the show featured great musicians including one of the best drummers I've ever heard.
Wednesday we once again ventured out of NOLA.  First to visit San Francisco Plantation, which was a fairly impressive plantation home in extremely underwhelming surroundings.  The home was completely surrounded by oil refineries with only a small oasis of green around it.  It turns out it is now owned by the oil company that runs the refineries.  The tour was informative and the house well maintained.  I was more impressed than I thought I would be driving up to the grounds amongst oil refineries.
Our next stop was Abita Brewing, across Lake Pontchartrain from NOLA.  However we had discovered (after leaving for the plantation) that they require close toed shoes for their tour and 3 of us were wearing sandals.  So we ran back to the house, put on appropriate foot wear and then drove across the causeway.  We had a quick lunch at their brewpub and then headed down the street to the brewery for the tour.  Before and after the tour you get to hang out in their tasting room, which has 11 taps of beer and 1 tap of root beer.  You get to pour your own from these taps, and it's free!  The tasting room itself is nice, and the patio is even nicer.  The tour was very well done.  Videos play in the tap room and give you all the information you could want on the brewing process, then you get to go wander amongst their fermenters, see their mash tun and boil kettle, and head back to the tap room for a few more beers before they send you on your way.  A very nice way to spend the afternoon!
Dinner that night was at Ignatius Eatery on Magazine St, which had been pointed out to us as fantastic "NOLA food".  It turns out it's named after the main character of "A Confederacy of Dunces", which I'm now in the middle of reading.
After dinner it was off to Frenchman St, which we had heard was the place to go instead of Bourbon for a more locally flavored night out.  Before we stepped into any bar we stopped to take in the group of high school students (we assumed) playing some fun NOLA style jazz on the corner.  We spent most of the evening at d.b.a., an excellent beer bar (no Bud, Miller or Coors in sight, though they do have Abita Light) with great local music up on stage.  We got to see Walter Wolfman Washington, met a traveler who was passing through and had a good time.  We also stopped by The Spotted Cat, which was a more intimate setting, but the band went on break right around the time we arrived and we soon headed off into the night.
A great night!  Go to Frenchman if you can!
Thursday morning we headed out to take a tour of St. Louis Cemetary #1 near the French Quarter.  We found our guide from Free Tours By Foot, in the quarter where we were told to pay what we thought the tour was worth after it was over.  The tour was very informative, well paced and fun.
That afternoon our AirBnB host took us on a driving tour of the city from the river to the lake.  It was really cool to get a view of the city from a knowledgeable local.  She also happened to have an elevation indicator in her car, it was interesting to watch it fluctuate between -8 and 12 feet (that I saw).  After the tour we took some of her suggestions.  First stop, snoballs at Hansen's Sno-Bliz, sooo good!  As a resident of Memphis I doubted it would beat Jerry's Sno Cones.  Turns out they're both awesome for different reasons.  Hansen's strength lies in its somehow better textured ice and its handcrafted flavors made from fresh ingredients.  We took our snoballs up to "The Fly", a park on the Mississippi River next to the zoo.  We spent the next hour or so eating snoballs, playing bocce and watching the river.
After a nice afternoon we headed to Salu on magazine street for dinner, where we had half price flatbreads and pitchers of mojitos during happy hour.
Next stop – NOLA Brewing's tap room.  They were doing a class on pairing beer and cheese when we arrived.  They let us take a table and get beer from the bar, even brought us some cheese.  By ordering flights of taster sized glasses instead of pints Sarah and I were able to try all 16 beers on tap.  This included their usual 5 beers, variations on those, experimental beers, and special releases.
Friday, our second to last day!  We started at the French Market.  It was a cool place to browse touristy wares, with a few real artists among the stalls.  We then grabbed lunch at The Gazebo Cafe, in a nice sidewalk setting next to a little park.
Next up was a walking tour of The French Quarter, again with Free Tours By Foot.  It was a great tour, full of interesting history of the city, its buildings, and its people.  We also walked down Royal street and saw street performers ranging from painted ladies to incredible jazz musicians.  It was really cool!
After that we went and grabbed a table on the balcony at Frank's Restaurant.  We didn't go for the food, which turned out to be pretty mediocre, but for the view of Decatur where a St. Paddy's day parade was going to be rolling down in a few minutes.  We had fun watching the parade, caught a few beads, and moved on.
It was Pi Day, and we headed to Noodle & Pie to get some baked deliciousness.  It was good, and our need for pie was satisfied.
Our last stop of the evening was CURE, where we had delicious cocktails before turning in for the night.
Saturday morning sent us searching for the Farmer's market, which a local "what to do" magazine had led us to believe would be large and fun.  It turned out to be pretty small, but we did make some tasty purchases.
Then it was time to gear up for the Irish Channel St. Patrick's Day Parade!  We watched floats and marchers, caught tons of beads, toys, cabbage, and had a lot of fun!  We wandered away to get some food, then went back to Tracey's for a little more fun before turning in for the night.
Sunday saw us heading out of NOLA and straight back up the interstate to Memphis.  We did have one nice stop at Broma's in Brookhaven.  A nice little local deli that was good for a tasty lunch on our way back.
All in all it was a fantastic trip!
[ngg_images gallery_ids="10″ display_type="photocrati-nextgen_basic_slideshow"]