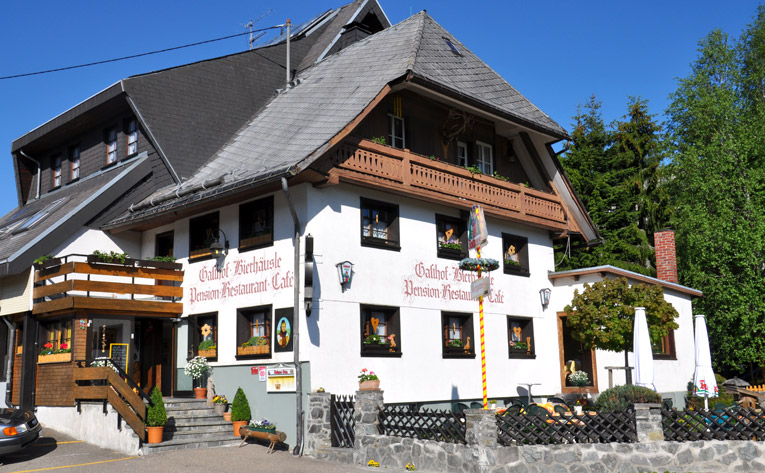 Sarah and I have arrived at our home for three weeks and are getting settled in.  It's a little hotel called Landhotel Bierhäusle (http://www.bierhaeusle-feldberg.de/index_en.html) run by a family with two young children in a small town in the Black Forest called Falkau.  Here's a map to get you oriented:
We showed up dripping wet from a walk in the rain and were immediately welcomed, shown to our beds, introduced to the other "helpers" and told to relax until dinner.  Since it was rainy we changed into dry clothes and spent the remainder of the afternoon chatting with our fellow helpers.
That night they went down to start the dinner shift and we went with to get oriented a bit.  Then we got out of the way to let the staff serve dinner and went upstairs.  We were called down for dinner, which was tasty, played a game of monopoly afterwards and then it was bed time.
The next morning we had our first shift, basically we bussed tables, washed and put away dishes, changed table cloths, refilled the breakfast buffet's hardware and non-perishables (jam, nutella), and cleaned the floors.  It was about 2 hours of work and then we were free from 11:30 until 6:30 when we would start dinner shift.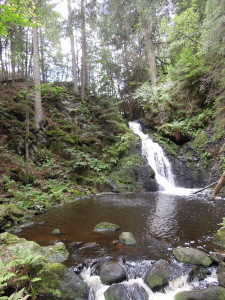 So we joined one of our new friends, Janis (Yanis, he's from Latvia), and went for a walk to a waterfall, then to the grocery store to pick up some basics we had run out of.  The waterfall was cool, and the walk to the grocery store was really beautiful.  We could immediately see how this forest inspired so many fairy tales and has become so famous.
That evening we walked into the kitchen, tied on our aprons and started washing dishes as delicious smells wafted around, the sounds of a kitchen on a quiet night filled the air and incredible looking plates went out the door.  Since there were only a few tables we had a pretty early dinner, which was once again delicious.  After dinner we finished out the night's dishes and then cleaned the kitchen and the restaurant before heading to bed.
All in all it was a solid day's work, not difficult and with good companionship.  We think it will be fun here.
The next day Janis had to work breakfast, but the restaurant is closed for dinner on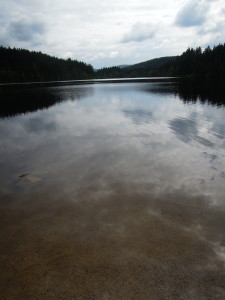 Tuesdays and so all 4 of us (the other helper is named Louise) had the afternoon and evening free.  We walked together to a little lake nearby and Sarah and I went for a swim.  The water was kinda brown from all the plants in the area and a bit cold, but refreshing.  Louise filmed us, so maybe there'll be a video sometime.
We then went to procure s'mores supplies.  We could only find strangely shaped colored marshmallows and instead of graham crackers we had butter cookies.  There are no Hershey's bars here (odd, since he was Swiss) but we got some tasty looking milk chocolate.
That night the restaurant was closed but we cooked up some steaks and sausages that had been left for us, heated up some potatoes au gratin and made a salad.  Great pre-campfire fare.
After dinner we headed out to the nearest campfire spot, found some fairly dry wood and got a nice little fire going.  We had a good evening of s'mores, beer and conversation.

This morning we got up, worked the morning shift and will probably go for a walk and play a game or two before the dinner shift.
I think we're going to enjoy life here for the next 17 days.