After several flat, hot, dry miles our first stop in New Mexico was Carlsbad.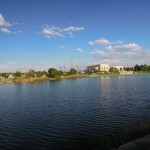 We went and walked along the river, which was nice and relaxing. There was a lovely park around the river with a greenline, a swimming area and paddle boat rentals. We invested in a watermelon snow cone, watched people feed catfish near the swimming area, crossed a foot bridge to one of the coolest playgrounds ever, and sat and watched the water flow by.
I assumed the river was the lifeblood of the city, but it turns out I was wrong.  We met up with our host at a local restaurant/sports bar, had some good cheap steaks and got to talking. The bar was called Ocotillo and it was clearly hopping most nights.  It turns out the city's biggest industry these days is oil.  Rent has shot through the roof as oil related jobs flooded the area and there was suddenly a housing shortage.
After dinner we headed off for a swim in the river at our host's private spot.  It was refreshing to dunk in the cool water after a few days of heat in Texas and NM.  We took a soak in the hot tub and then got some sleep before heading off towards Arizona.
Between Carlsbad and Tucson (our first destination in AZ) lay a mountain range and White Sands National Monument!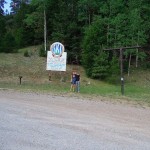 We happened upon a ski resort, Ski Cloudcroft, at about 8500ft in the mountains of NM and, being rather excited to find one, stopped to take a few pictures.  After one more stop for pictures and delicious mountain air we arrived at White Sands.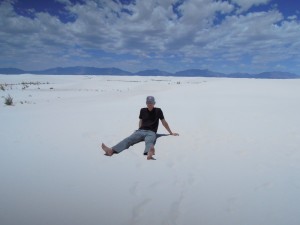 It's pretty incredible to stand and see shimmering white dunes stretching away in all directions with mountains rising up around you on all sides.  We ran around on the dunes for a while, running down them, attempting cartwheels (Sarah successfully, me not so much) and had a lot of fun.  We eventually left and headed on towards Tucson.
In Tucson we met up with our good friends Pat and Ruth.  They took us to the Gaslight Theatre for a comedic musical called Ghostblasters.  It was fun and funny, we sang along, cheered the heroes and booed the antagonists.  After the show they did a fake talent show bit, which was also hilarious.
We headed down to Sierra Vista after the show for a good night's sleep on the most comfortable air mattress ever.  Seriously, this thing was amazing.  It was better than many full beds I've slept on.  The brand was Aero, which I'm putting here as much for my own information when I go mattress shopping as for yours.  The next morning Pat, Sarah and I (Ruth had to work) headed north towards Kartchner Caverns State Park for a tour.  This was incredible.  We weren't allowed to take pictures, but there are some good ones online.  This cave (as far as we know) was discovered by two college students in the 1970s.  They kept it secret as they explored it because they didn't want anyone to damage it.  They then went to the owners of the land, who included a school superintendant.  Together with the owners they worked with the governor to make the cave a state park, after succeeding they set up a plan to preserve the caves while making them available to all.  That evening Pat and Ruth hosted game night.  We had a great time playing games with them and their friends late into the night.
The next morning it was off to Grand Canyon National Park.  On the way we passed through Tucson and Pheonix.  After that we wandered through the beautiful Arizona countryside.  Just before the park we ascended the mountain range it cuts through.  It was beautiful.  We also stumbled onto Route 66 for a few minutes to find gas before heading into the park (which turned out to be unnecessary, since there are gas stations on the way in and in the park itself).  The first thing we saw on entering the park was a female moose, which was cool.  Then there was a bunny, which we had to take a picture of.  Next was the main attraction.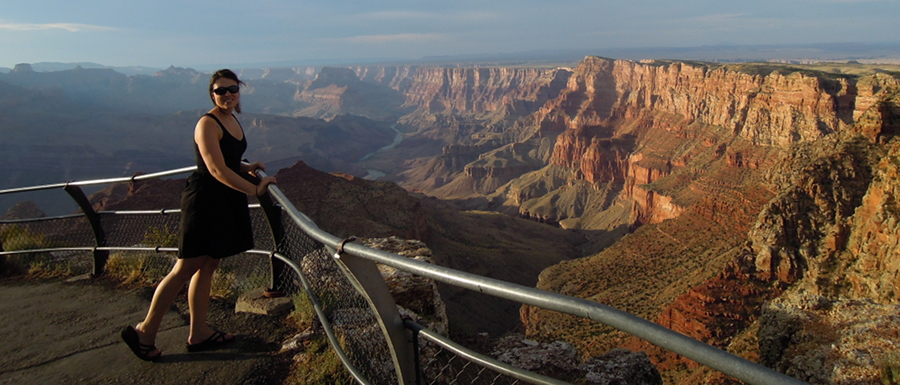 Wow.
The grand canyon is awesome in the most literal sense of the word.  We stood and stared and then headed on to find a less populated view point.  After walking along the rim for a while we gawked.  Next we drove along "rim road" aka highway 64 toward the parks' only non-reservable campground.  Alas, it was full, we continued out of the park to the national forest where camping (almost) anywhere is allowed and found a likely spot 2 miles outside the park.  We pitched our tent and headed back in with the intention of finding a good spot to watch the sun set over the canyon while we ate a picnic dinner.  This turned out to be a fantastic decision.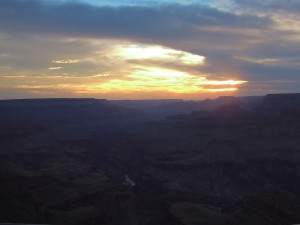 There were a few too many clouds laying low across the horizon and we ended up with golden glowing clouds instead of an array of colors, so it wasn't as glorious as it could have been but it was fantastic nonetheless. Watching the different shades of light filter across the canyon was almost magical, and confirms why Native Americans thought this was such mystical spot.
The next morning we couldn't resist heading back into the park for one more view before we continued on our way.  We determined that if we ever get the chance to backpack through the canyon or float the Colorado through it we will jump at the opportunity.  After that it was off to Zion National Park.  Along the way we saw, crossed and then stopped to stare at the Glen Canyon Dam.  This dam is responsible for regulating the Colorado River and generates quite a bit of power.  It's rather large and imposing.  There were also some dinosaur fossils there, so that was cool.
Our next stop was Zion National Park.  This place is really amazing.  What's with the west and gorgeously awesome landscapes?  Get with it, eastern states.  Anyhow, apparently these enormous sandstone mountains are basically layer upon layer of petrified sand dunes.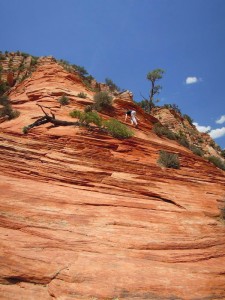 They make for incredible vistas, however they were formed.  We stopped in the park for a short hike up to a great viewpoint of the canyon below.  This was a great break from driving and we really enjoyed hiking through a bit of this beautiful place.  We continued on our way through the park and went through a really long tunnel, then wound our way through the canyon we had just viewed from above.  We stopped at the visitor's center long enough to determine that we had only seen a tiny sliver of the park and that we need to return, spend a week camping and doing different hikes every day in order to see any significant portion of what it has to offer.  We look forward to doing that someday.
We'll get into Pocatello, ID tonight and spend a few days there.