The Kitchen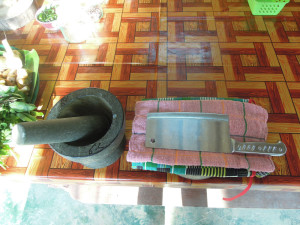 If you've ever set foot in a Thai restaurant you may have guessed that one of the best things about Thailand is the food.  Everywhere you turn there are tantalizing aromas leading to delicious flavors.  So our friend Johan and I signed up for a Thai cooking class.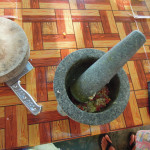 We were picked up on Friday evening by a very nice lady whose name is pronounced like "yolk" and her husband who whisk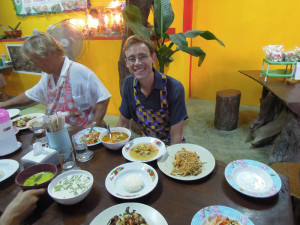 ed us away to their home/business where we spent the next 3 hours whipping up 5 dishes each with our compatriot Randy (from Hawaii).
We each made a soup, a salad, a stir fry, a curry paste, a curry (with our paste) and dessert.
After chopping, pasting, mixing, simmering, frying, and tasting our way through all this we were awarded with certificates of completion and a recipe book.  The food was awesome and hopefully someday we'll be cooking it for you back home!
The Mountain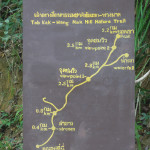 We've  been looking up at beautiful limestone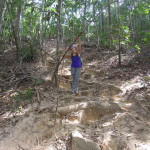 karsts, cliffs, hills and mountains for the last 2 weeks and naturally started trying to figure out how to get on top of them.  We tried climbing them out on Railay beach with our friends Jen and Johan, which got us some great views, but no summits.  So after a bit of research we found a hike that would get us to the top of a mountain we see on our daily commute to the beach.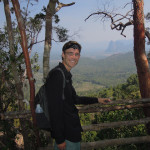 So on Saturday morning we packed a day bag, bid farewell to Jen and Johan (safe travels back in the USA you two!) and wound our way through some very pretty scenery to the trailhead.
For the next two hours we made our way out of the tropical rainforesty stuff into a more temperate climate, it was beautiful.  We sat at the highest point we could see for miles around us as the landscape faded into the mist of the humid air here in Krabi and ate lunch.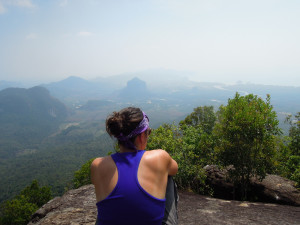 On our way down we passed groups of locals dressed for picnics, temples, and a few who looked ready to camp.  The tourists we passed ranged in dress from high tech travel gear and hiking boots to bikinis and flip flops.
 The Beach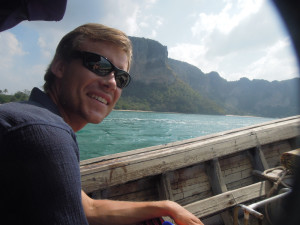 On Sunday we rolled out of bed and made our way via boat to Phra Nang beach.  There we saw the "princess cave" where apparently a shipwrecked princess lived for a while and now people leave carved wooden phalluses as offerings to her in hope of blessings.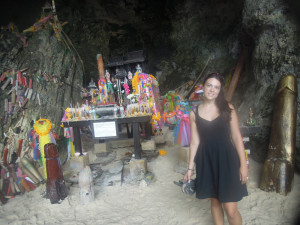 After that we enjoyed the perfect sand and warm water, watched the climbers working on routes behind us, and did a little snorkeling.  We were surprised at the variety of marine life we saw within a few feet of the shore.  I saw Nemo and his dad as well as Gil, which was cool.  Sadly the camera battery died partway through our first snorkel and I didn't get pictures of the coolest fish, just this little stripey dude.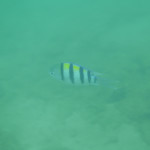 As the day wore on we wandered past the princess cave to explore the rocks in the area as worn away by the sea.  They are beautiful and fun to clamber around on.  Finally we caught a boat back to Ao Nang and went to bed with dreams of the super bowl in our head.
The Early Morning
My alarm went off at 6:00am and I fumbled into some clothes and out the door.  Around 6:20 I was in my seat at TJ's sports bar waiting for kickoff at 6:30.  I sat across from a WSU alum (Seahawks fan) and to my right were 3 Wisconsin natives who seemed a bit preoccupied with the Packers's miserable loss to Seattle in the NFC championship.
We had a good time watching the best super bowl I can remember and of course it ended the way I wanted it to.  

 Go Pats!