Last night we arrived in Gruyeres and had fondue, which was a great start to our visit of the region that produces Sarah's favorite (readily available) cheese of all time.  Today we set out to experience more of the things the region is famous for and we certainly succeeded!
We had purchased the "Passport La Gruyere" deal, which includes two nights in a hotel a "welcome drink", a fondue dinner, breakfast, and free or discounted entry to lots of attractions in the area.  So last night's dinner was included, as was breakfast this morning which largely featured local cheese.  The village we are staying in, Grandvillard, has its own fromagerie and the cheese is awesome!  It's not what you get when you buy the gruyere label in a grocery store but it is awesome.
After that our hotelier gave us a ride to the train station, where we were unable to buy tickets, so we got a free ride to Gruyeres village.  We then toured La Masion de Gruyeres, where we saw almost the entire production process of gruyere cheese.  It was cool, and the tasting was great.
Next we headed up the hill to the Castle of Gruyere.  It was a cool tour of an impressive fortification.  While there we learned a bit about the history of the region.  This little area was made powerful by the counts of Gruyeres, who had made money on the export of cheese among other things.  Through a well placed castle and good political alliances they had managed to keep the region prosperous and unconquered for a very long time.  Eventually they collapsed due to a few financially irresponsible leaders.
After the castle we wanted to go to the Callier chocolate factory.  Public transit (for the first time in Switzerland) failed to take us where we wanted to go from where we were and we ended up walking to another town to catch a bus to Broc, where the factory is.  We then went on a great tour of the entire history of chocolate (as far as Europeans know) and then ate far too much chocolate in their tasting room.  Due to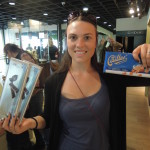 our overindulgance we easily avoided purchasing anything in the shop and went to the bus stop to get to Charmey.
As we learned earlier busses in the area aren't the best so while we waited for the bus we made a sign saying "Charmey" and put our thumbs out.  A nice guy who was driving his young cousin to Charmey picked us up.  Turns out he was born in California, loves skiing and had great tips for us if we came back in the winter.  Anyhow, we got to Charmey and took the cable car to the top of the mountain.  We were rewarded with wonderful views and we wandered around for a while before taking the cable car down and making our way to the "Bains de Gruyere", the baths had turkish baths, saunas, pools with fun features and were a nice relaxing end to our day.

We ended up missing the bus we needed to connect to the bus that we wanted to take us home, but were picked up again by a nice guy who had just finished a 10k race in Charmey.  We then caught our bus home.
What a day!  Full of delicious local specialties, wonderful views, relaxation and helpful strangers.  We can only hope these trends continue on our travels.