We were looking at our map of states we had visited and noticed a glaring blank spot just north of us in Memphis.  Time to go visit Kentucky, and who better to go with than our good friends Dani and Taylor.  Dani is a native of Kentucky and was happy to show us around a bit and introduce us to some of her family.
After the familiar drive to Nashville we turned north and realized that due to a time zone change and some poor planning on my part we weren't going to be able to make the Four Roses tour, so we turned aside and got onto a tour at Willet Distillery in Bardstown KY.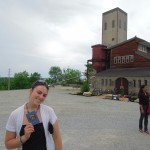 We saw their mash tun, boil kettle and big open fermenters, they even let us stick our fingers in the fermenters and have a taste, which was fun (it tasted sour).  Next we saw their potbellied still where the magic happens.  After distillation the whiskey might need to be watered down a bit.  Then into barrels where it goes into one of several big (really big) aging warehouses and stays there for a few years.  Lastly we got taste some of the finished product, very tasty bourbon.
We drove on to Lousiville, where we went to Bardstown Road for dinner and dancing.  It was a cool neighborhood full of restaurants, bars and shops.  We had a really good time!
The next morning Dani's uncle cooked a large and tasty breakfast to send us on our way.  Delicious sausage gravy, biscuits, bacon, eggs and more tastiness.  Good thing too, next up was Mammoth Cave!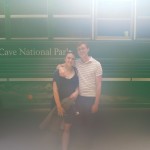 We pulled into the national park, got tickets, hopped on a bus and were carted off to the cave entrance.  They have multiple tour options we choose the Domes and Dripstones tour that showed of the cave's geology. We descended down 250 feet under the surface via 280 stairs (there were 500 total).  It was beautiful, the air was refreshingly cool and the guide answered all our questions. The first part was entirely dry so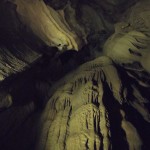 it was without any ornamentation. About half way through all the changed there were beautiful stalactites and stalagmites, including a humongous feature they call they Frozen Niagara.
We really enjoyed it thoroughly.  After the bus ride back we went through a foot disinfector designed to prevent us from spreading "white noise syndrome", a disease that is killing off bats.
We went to The Pharmacy in Nashville for dinner.  This place had delicious and creative burgers with even better fries (yum sweet potato!). If any of our TN friends have not tried this place we strongly r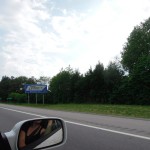 ecommend it!  Then onwards to home!
It was a great weekend!
View all the pictures here!