Hey everyone!
We are in Vietnam and so far it's been great.  We spent 3 days in Saigon (AKA Ho Chi Minh City), which was very interesting.  We couchsurfed one night with a very nice guy who lived two buses away from city center.  It was cool to see a local neighborhood, try eating out the way the locals do, sing karaoke and ride the local buses.
We then spent two days seeing the more touristy side of Saigon.  Our first lunch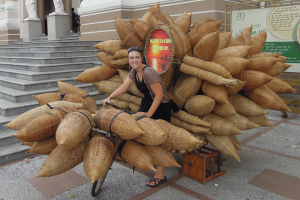 was Pho on a busy corner in downtown, sooo good!  We did a walking tour and then stopped by the old presidential palace before having some sort of pan fried corn dish on the street for dinner.  The next day we  We went to the War Remnants Museum where we learned all about the War of American Aggression.  Agent Orange/Dioxin has caused much suffering and despite the American troops, their allies and their South Vietnamese Puppets the war was won and the country reunified.
The next day we visited the Cu Chi tunnels.  This vast tunnel complex is one of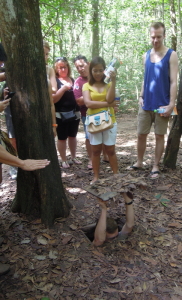 the places that local people lived and fought during the war.  It was impressive seeing the tunnels that the people had dug, crawling through them, all to the tune of automatic weapons fire produced by tourists at the nearby range.
Next we hopped on a bus and headed to Da Lat in the Central Highlands.  It was nice to be in cooler weather and we had a wonderful time in the hills.  The first day we went canyoning.  We abseiled down cliffs and waterfalls, slid down falls, jumped off cliffs and had a great day.  Sarah was a bit nervous in places, but always ended up going for it.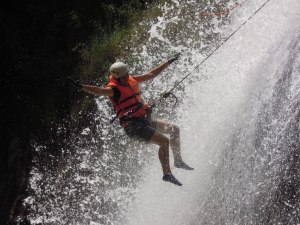 The next day we got on motor bikes with guides and spent the day riding around Da Lat seeing a lot about local life.  One of the main economic drivers in the area is farming.  We saw some of the flower industry, miles and miles of roses and other flowers growing in semi green house things.  Next it was a minority village where the locals still farm for a living, don't go to school even though the government pays for them (though not for everyone in the country).  We met one 84 year old man who still works the fields (happily it seemed).
We also stopped at a coffee plantation (which produces rice wine as well).  There was tasted coffee that is shelled by being fed to weasels.  They then poop out raw beans ready to be washed, roasted, ground, brewed and served.  It was tasty, but I'm not sure it's any better than regular Vietnamese coffee.
This morning we hopped on a bus to Nha Trang, a resort town on the southern coast.  We checked into our hotel, wandered down the beach and into a local brewery.  We had our first non light lager since getting to Asia, which was a nice treat.  After asking some Americans where to find a good Thanksgiving dinner we headed back to the hotel, changed into our suits and went for a swim.  The water is perfectly warm, the waves nicely sized for playing, the breeze kept us cool after we got out and dried us off in time to go get ready for dinner.

We walked into Texas BarBQ and Steaks a block away from our hotel.  We started off with a very tasty salad, a deviled egg, some steamed veggies and carrots and celery.  Next up was smoked turkey, smoked ham, stuffing, mashed potatoes, hush puppies, corn and green beans.  Absolutely delicious!  Sarah was missing one of her favorites though, cranberry sauce.  Fortunately and ex-pat sat down near us with a can of it and when Sarah asked if he would share a bit he was more than happy to.  After we were appropriately stuffed they brought us apple pie.
We've had a wonderful Thanksgiving and we hope you all do too!