You've probably seen pictures of Ha Long bay at some point, or at least of landscapes a lot like it.  Turquoise waters with limestone karsts jutting dramatically out of the water.  Often there's a fishing or tourist boat cruising through the photo.
Well we didn't go there, we went to it's less tourist filled cousin Long Ha Bay and spent a few days on Vietnam's largest island.  Same incredible scenery at our own pace.
The first day we went on a guided tour which took us kayaking through the bay in the morning and rock climbing on a little island in the afternoon.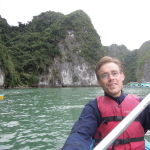 Kayaking was cool.  We got to see some great scenery, go through a little archway into a beautiful lagoon, scoot through a mini-tunnel in a karst and meander past fishing villages (floating ones).  In the afternoon the guides set up 5 climbs for us and one other couple and we each made our way up them.  It was really fun!
Unfortunately I forgot to put the memory card back in the camera that morning so we won't have any more pictures until the other members of our group get them online.  Oops!
Speaking of the other members of our group we met up with them and another couple that we met while drinking Bia Hoi in Hanoi the next day for a hike through Cat Ba National Park.  This was a really cool experience.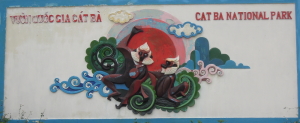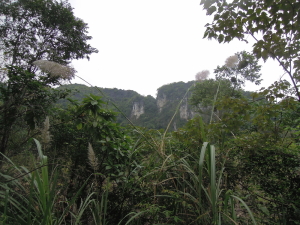 The first part of the hike was through the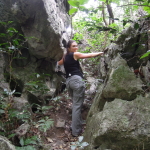 jungle covered limestone mountains of Cat Ba Island.  We wandered through lots of interesting flora, scrambled up steep inclines, praised Vibram for protecting our feet from razor rocks and stopped for plenty of pictures.  The foliage was pretty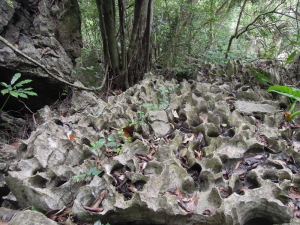 thick, but we were rewarded with nice views a few times.  Obviously the pace through this terrain was a bit slow, and we worried that we might need to pick it up a bit to ensure we completed our 14 km trek before sundown.
However after some confusion at an unmarked crossroads we ended up in the village of Viet Hai and after that it was smooth sailing.  We walked through rice fields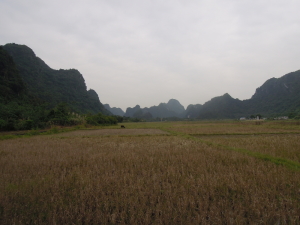 down a valley to the harbor enjoying really cool surroundings all the way.  At the harbor there were no boats waiting to take us home, but a villager offered to call her friend to take us back for 100,000 Dong ($5) / person.  We waiting a bit before accepting, which turned out to be a great move because we got a perfectly timed sunset cruise through Long Ha bay back to town.
What a fantastic day!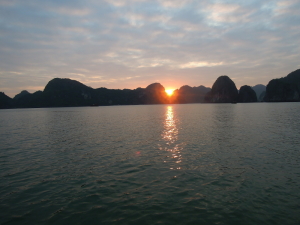 The next day we relaxed, changed hotels to one with a balcony, and then sat on our new balcony to get some work done.  That evening we met back up with our friends at Cannon Fort above the town for some really nice views as the sun went down.
For our last day on the island we rented a motorbike and took off cruising around the island.  We stopped at 3 different caves, another harbor, a random guy's house where there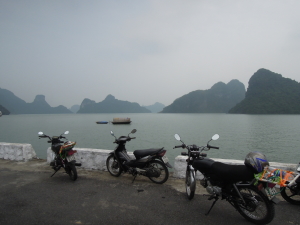 was some sort of zoo or breeding operation or something, a climbing spot where the company we toured with was doing some pretty cool looking climbs.  Then it was lunch time.  We stopped into a family's home where they do lunch for the climbing tours and asked if they could feed us.  They said yes, $3/person.  We waiting quite a while but it was worth it, they brought out a veritable feast and we tucked in.
We capped the day off with a beach for sunset (again hidden by clouds).
Cat Ba Island was one of the best stops of our trip so far.  Beautiful scenery, awesome activities and great friends to enjoy it with.